Location
Address:

Appartement No.8
Résidence Horizon
131 Avenue de la Grande Côte
17420 SAINT-PALAIS-SUR-MER

St Palais is near Royan in the Charente Maritime Département of France. It takes 5 hours or less to drive there from St Malo; alternatively it is about 65 miles from Bordeaux airport.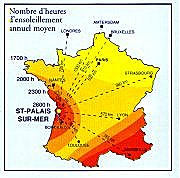 This part of france is statistically one of the sunniest areas as the sunshine map shows (reproduced from the brochure of the Auberge des Falaises which is next door to the apartment). The figures show the number of sunshine hours per annum. 2600 hours p.a. works out at an average of more than 7 hours a day!
The apartment is separated from the sea by a road together with a cycling path and footpath, the latter being part of the beautiful coastal path. The road is a minor disadvantage in that, as the coast road leading to Plage de La Grande Côte and La Palmyre, it is fairly busy in the peak season (July & August). However, the traffic is generally slow moving and dies away in the evening. There are lots of safe places to cross - the other holiday-makers generally just wander over it (much to your annoyance if you are driving!)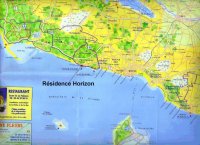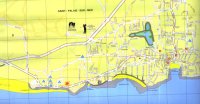 Related Links